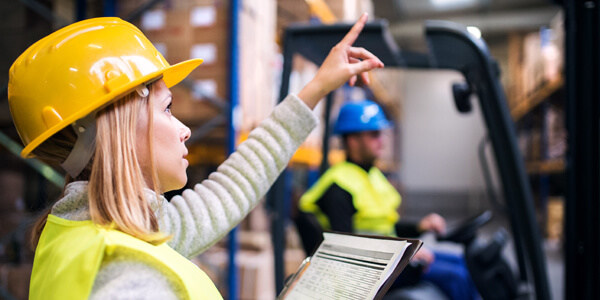 In general, solutions for 3PL or third-party logistics sound like an easy way out for businesses looking forward to reducing logistics costs and focus on their core objectives. Warehouse management and operations are the backbones of any business. Even though most companies know for a fact that warehouse operations need to be streamlined, they are unable to do so due to the lack of expertise. Sure, 3PL solution providers fit right in, but most of the time, they either fall short or are unable to meet the demand of their clients. This primarily happens due to the lack of technology and management on the 3PL provider's end. For a 3PL provider, making more revenue means continuously updating their software, hardware, and human resources to meet the myriad of challenges the market has to offer.
If you are a 3PL solution provider, wondering how you can boost your overall ROI and you need to identify troublesome areas. Here's a checklist you need to go through to determine whether your current 3PL Software is costing you revenue or not. Let's start the audit…
Factor # 1: How Accurate is Your 3PL Solution's Inventory Accuracy?
The Inventory accuracy of your 3pl solution is the first and foremost factor that can hurt your ROI. According to a recent survey, up to 37% of warehouse management solution providers face problems due to inaccurate inventories, which can probably be a result of untrained staff, software not being updated, bugs in the software, and corrupt hardware. Fixing erroneous inventory issues can help you take the first step towards ensuring better ROI from your 3PL solution.
Factor # 2: Do You have Compliance Issues in Picking?
For most warehouses, picking is at the forefront of creating disorder in the entire sequence of management. Many modern 3PL solutions rely on voice-directed or Radio-Frequency Systems, which reduce the chances of errors in picking. Yet, many warehouses today are still relying on paper-based systems, ultimately leaving their picking process open for inaccuracies. On the other hand, inaccuracies in software can occur as well, but they can be easily identified and corrected over time.
Factor # 3: Do you have a Configurable 3PL Solution of a Generic One?
When it comes to software for 3PLs, there is no question about the fact that configurable software with a custom layout of your warehouse is the best way to go. With a configurable 3PL solution, any warehouse or business can opt for a format that suits their needs the most. There are hundreds of companies belonging to different industries looking for 3PL solutions, and only a configurable 3PL System can be the perfect solution.
Factor # 4: Do You Regularly Find Inaccuracies in Purchase Orders?
Many times, 3PL solutions can show inaccuracies in invoices that don't match with purchase orders. This could happen due to errors in software, upgrades, or untrained staff members. Such conditions can negatively impact your ROI. Working with a software provider for 3PL that ensures regular updates and maintenance is crucial to avoid any such instances.
Factor # 5: Inaccuracies in Systems & Processes
Again, the need for a configurable 3PL application cannot be overlooked. Many times, you would require custom solutions for clients to ensure there are no inaccuracies created. One business may have a simple buy and ship process, while the other might require sending an item back and forth and then ship it to the customer. In such a situation, it becomes extremely difficult to rely on a basic 3PL solution.
Time to Calculate Your ROI
If you believe you have already worked on the points mentioned above, then it's time for you to start calculating your ROI to see where you stand. Remember, your ROI is not just limited to what the software is showing you. The software itself has a cost, and that cost needs to be adjusted in the ROI. Here's how to do it:
Measuring the ROI
When it comes to calculating ROI, there are two major components you need to look at: tangible and intangible ROI. Tangible ROI will simply be a calculation of cost vs. revenue, and the result will be your profit. With the right software, you can easily reduce expenses such as storage fees, administrative costs, and stationery costs, etc. For intangible ROI, you will take into consideration factors that cannot be quantified, such as the smoothness of the operation that has occurred due to the 3PL solution, better work environment, and features of the software that make it easier for employees to work. Once you have work around these factors, you will have a simple calculation of where you stand in terms of ROI. But that's not it. There's an elephant in the room that still needs to be addressed.
Support, Maintenance, Implementation & Training ROI
This is where the trouble lies. With many 3PL solution providers, it is impossible to get streamlined support and maintenance services, let alone training and implementation. While you might feel that your 3PL software has reduced your cost, the training, support, and maintenance cost might have spiked. Does your software require monthly maintenance? Do you have to pay per employee for training? How often does the system shut down, and you have to follow up with the software providers for hours? All of these issues directly impact your ROI. You need to include them in the calculation to get the right numbers.
In a Nutshell…
Once you have your ROI calculated, the next move is to figure out whether your current 3PL solution provider is suited to your needs or not. If not, it's time to hop. However, do keep in mind your 3PL solution provider will be your long-term partner. Make sure you select a provider with experience, quality services, and affordable rates and terms. Don't look for the cheapest solution, as the maintenance and support cost might drag down your ROI figures.
Royal 4 Systems has been innovating software solutions for the 3PL industry for 35+ years. Our 24/7 support staff has decades of experience providing solutions to 3PLs. See why 3PL companies, Large and Small, all over the world, choose Royal 4 Systems. To get started or for more information, please contact Royal 4 Systems today!
1-888-8ROYAL4  1 (888) 876-9254
Need more information?
Solutions