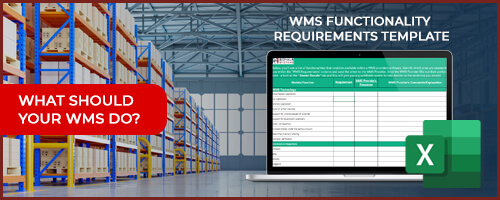 Free WMS Functionality Template
Listing your functionality requirements for a WMS could be an arduous task. You have to take into full account all the running processes your warehouse has right now and its future needs.
Every WMS requirement is unique, but that doesn't mean they're all very different. We compiled a master datasheet that contains all the needed WMS modules and functionality a company typically needs in order to run a smooth warehousing operation. Download our Free WMS functionality template now and make your WMS acquisition journey as seamless as possible.
Why would you need a good requirements template for your WMS acquisition?
To avoid costly modifications post implementation
To get the best out of your WMS
Seamless integration with existing systems/platforms
Modules included in the requirements template:
WMS technology
E-commerce, carrier, accounting and other integrations
Warehouse layout
Inventory and order management
Inbound
Picking/Packing/Shipping
Reports
3PL Features
3PL Billing Pricing Options
Sign up to get our FREE WMS Functionality Template