WISE LEADER – MARK MAASKANT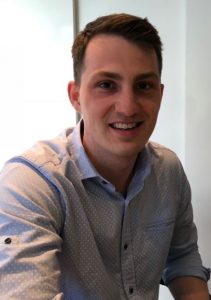 MARK MAASKANT Corporate Warehouse Systems Manager – WINDHORST
Mark Maaskant has been Windhorst's Corporate Warehouse Systems manager since 2015. Mark was instrumental in researching the available supply chain systems on the market and determining the best solution for automating the Windhorst warehousing operations. Since Mark joined the company, Windhorst has become an even more successful 3PL company and has continued to grow in this very competitive marketplace. For this achievement, Royal 4 Systems is pleased to induct Mark Maaskant as the newest member of the WISE leader's program.
Quote from Mark Maaskant:
"Windhorst chose Royal 4's WISE solution after looking at several other 3PL systems in the market. Our goal was to find a Warehouse Management System that matches our corporate strategy of being able to fulfill very specific customer needs and being able to quickly adapt when these needs change. We had interviews with nine other WMS providers, but none of these had the flexibility we were looking for. The main goal of an IT system is to be a strategic asset that supports you to continuously improve your processes and achieve strategic goals, WISE does this for us. The value for WISE compared to cost is outstanding, and Royal 4 has proved repeatedly that they can support our company's warehouse management needs. Thus, resulting in our continued partnership with them."
-Mark Maaskant, Corporate Warehouse Systems Manager
Notable Achievments

| | |
| --- | --- |
| Headquarters | Windhorst Transport BV, Belgiëlaan 4, 2391 PE Hazerswoude-Dorp, HOLLAND |
| Revenue | $15,435,040 |
| Founded: | 1818 |
| Employees and exclusive contractors: | 68 |
Windhorst is a transport and logistics provider (3PL) located in the Netherlands. It's a family company and the oldest known document stems from 1818. Almost 200 years later, Windhorst is an all-around logistics provider. In the total Windhorst offering, warehousing is an important activity for adding value to goods and services in the supply chain. Windhorst specializes in the storage and processing of food products and is BRC certified, the best practice in the storage and distribution of food. In combination with this quality system, they continuously improve and broaden their processes. Windhorst has more than 20,000 m2 of storage space, where both the storage and value-added-logistics activities take place. Several types of storage are possible in various types of racks. By proactively analyzing and improving processes, they ensure cost savings and efficiency, allowing customers to concentrate on their core business.
Some Windhorst services include:
Real-time Warehouse Management with Electronic Data Interchange (EDI)
Warehousing of both food and non-food products
Outsourcing of both physical and administrative activities
Value Added Logistics: labeling, sampling, customs, quality management
Value-added Services: EDI, Daily performance Reporting, Process optimization advice reports
Order picking (Full and Partial)
Online Order Entry