BETTER MANAGEMENT OF RESOURCES
WISE Logistics manages the flow and preparation of food and delivering meal services for city or county detention facilities, state or federal prisons.
"We wanted to ensure a smooth transition to the new system, so we began by focusing on outgoing orders first. Once that was up and running, we tackled inventory tracking and control. System implementation took 10 months from start to finish. We had absolutely no disruption in operations."

"We needed an automated WMS system to help us solve problems with our inventory control, performance levels within our warehouses, and space utilization issues in multiple locations. Royal 4 worked with our IT team to ensure a smooth integration with our Navision ERP system."

"Being a food manufacturer operating on lean principles with complex distribution we required a tightly integrated system that would be able to scale out to all of our locations. We are happy with our decision I am pleased to endorse this fine organization to any company looking for supply chain services."

Simplify Complex Operations
Food services in city, county, state, or federal detention centers is a complex operation governed by strict rules of safety, sanitation, security, and supervision. In most locations, county staff is required to directly supervise inmate workers in the preparation of food, service of meals, and the cleaning and sanitation of food service equipment and facilities. In addition to supervision, staff must also educate working inmates in proper food handling techniques and sanitation in accordance with Federal, State and Local Health Code and statutes governing the recall and reporting for contaminated food products.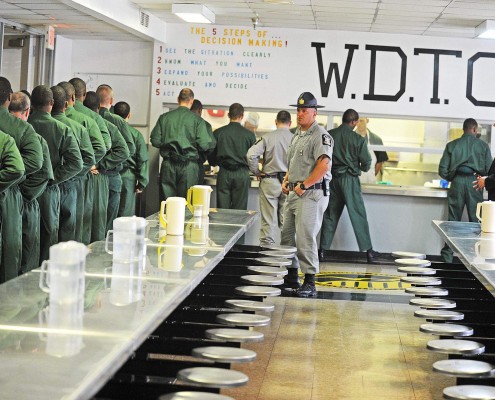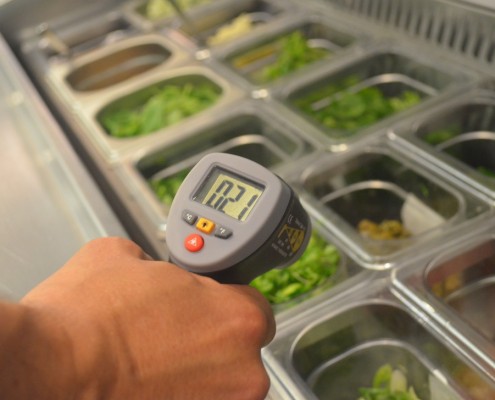 Maintain Food Compliance
It is common to employ sanitarians to regularly inspect all kitchen facilities and train the production staff on food safety and compliance with all food rules and regulations. In larger facilities, a registered dietician may be on staff to create the menus and modified diet menus, and provides dietary guidance for the health and welfare of inmates. Food Service staff are trained to properly supervise the preparation and service of medical and religious diets which have become common in today's diverse society.
More Efficient Management
Replace all paper and spreadsheet systems used to manage food handling, storage, and preparation in a main facility or satellite operations. One area to extract increased efficiency is applying WISE Logistics to the process and material handling of food products, inmate worker management, and meeting regulatory guidelines including food safety and recall legislation recently approved or anticipated. Service of meals generally includes all inmates housed in the central facility, which also involves meals and food related support for work crew and work release programs.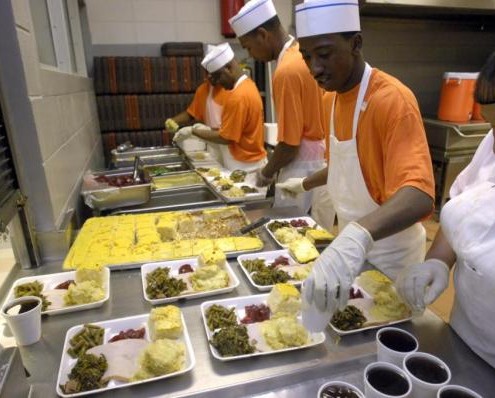 WISE LOGISTICS HAS THE FEATURES YOU NEED

MANAGE ASN'S
Track and Manage Advanced Shipping Notices (ASN) by multiple Purchase Orders or users.

EFFICIENT RETURNS PROCESS
Receive and process returns more accurately and efficiently.

BETTER MANAGE STORAGE
Display open slots in the warehouse or storage areas.

REPORTING CAPABILITIES
Able to produce reports for completion of 3-Way match for Purchase to Pay (P2P) cycles.

ELIMINATES DATA ENTRY
Eliminate all time consuming manual data entry so resources can be used more efficiently.

VIEW EVENTS IN REAL TIME
Users must be able to view real-time current inventory, and expected deliveries of food items.

RF CAPABILITIES
Use electronic (RF) scanners, tablets, or smart phones to interact with WISE Logistics to receive items into stock against issued PO.

PRINT RECIPTS
Print shipping/receiving receipts, etc.

COMPLETE TRACEABILITY
Provide complete traceability for compliance to food recall legislation currently in force.

FLEXIBILITY
Integration with ERP system or function standalone.

BETTER DATA
Update ERP systems with receipt, stock, and consumption data for issuance of PO's and requisitions.

AUTOMATE PO'S
Prompt to order materials according to flexible usage analysis.

FIFO CAPABILITY
Pick items (according to FIFO) and expiration date rules.

MULTI-LOCATION
Users from different facilities must be able to transfer or order items from central or satellite locations.
Gain better financial and process control over your agency.
Download these resources to help you with your Journey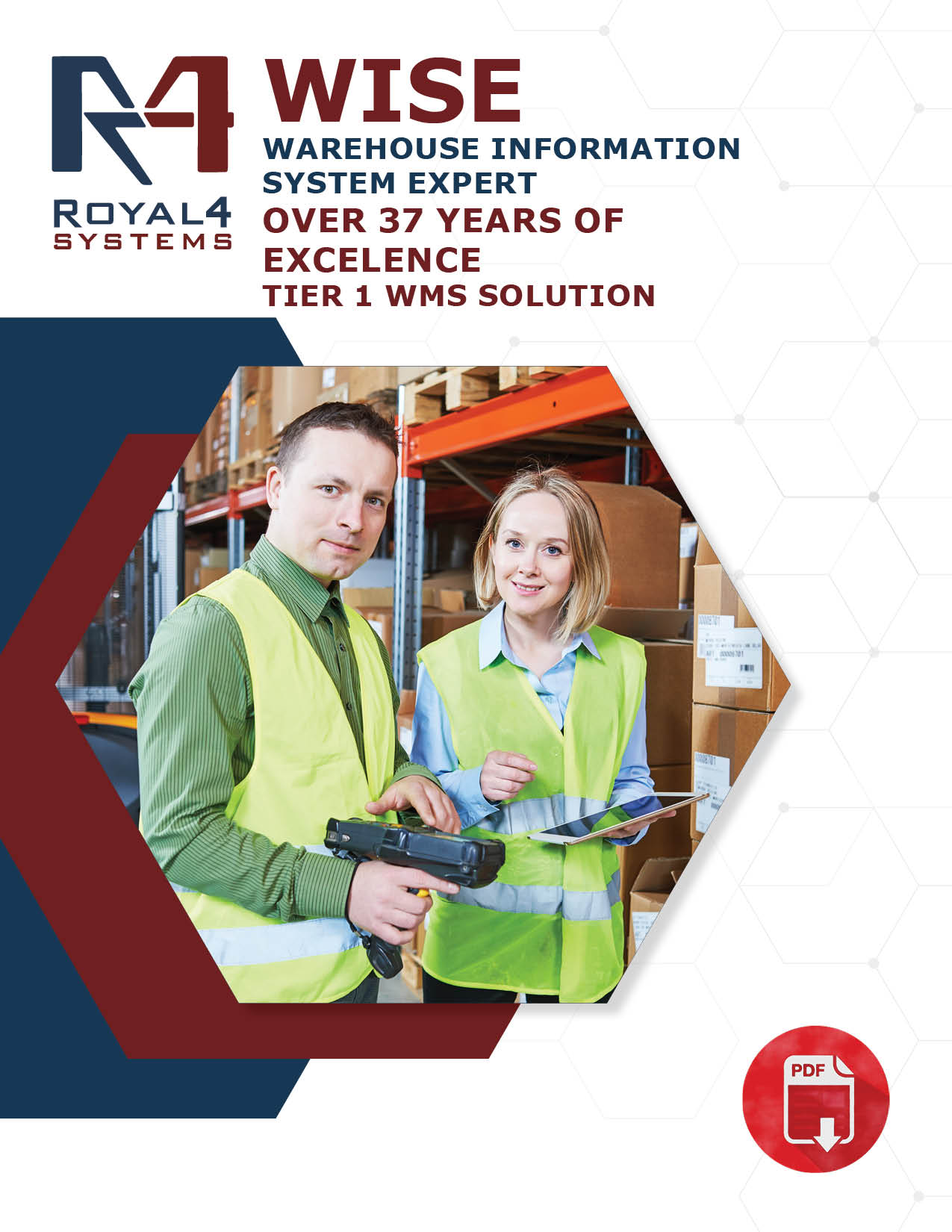 WISE WMS
Our warehouse management software application suite (WISE) is the core of our Supply Chain Solution.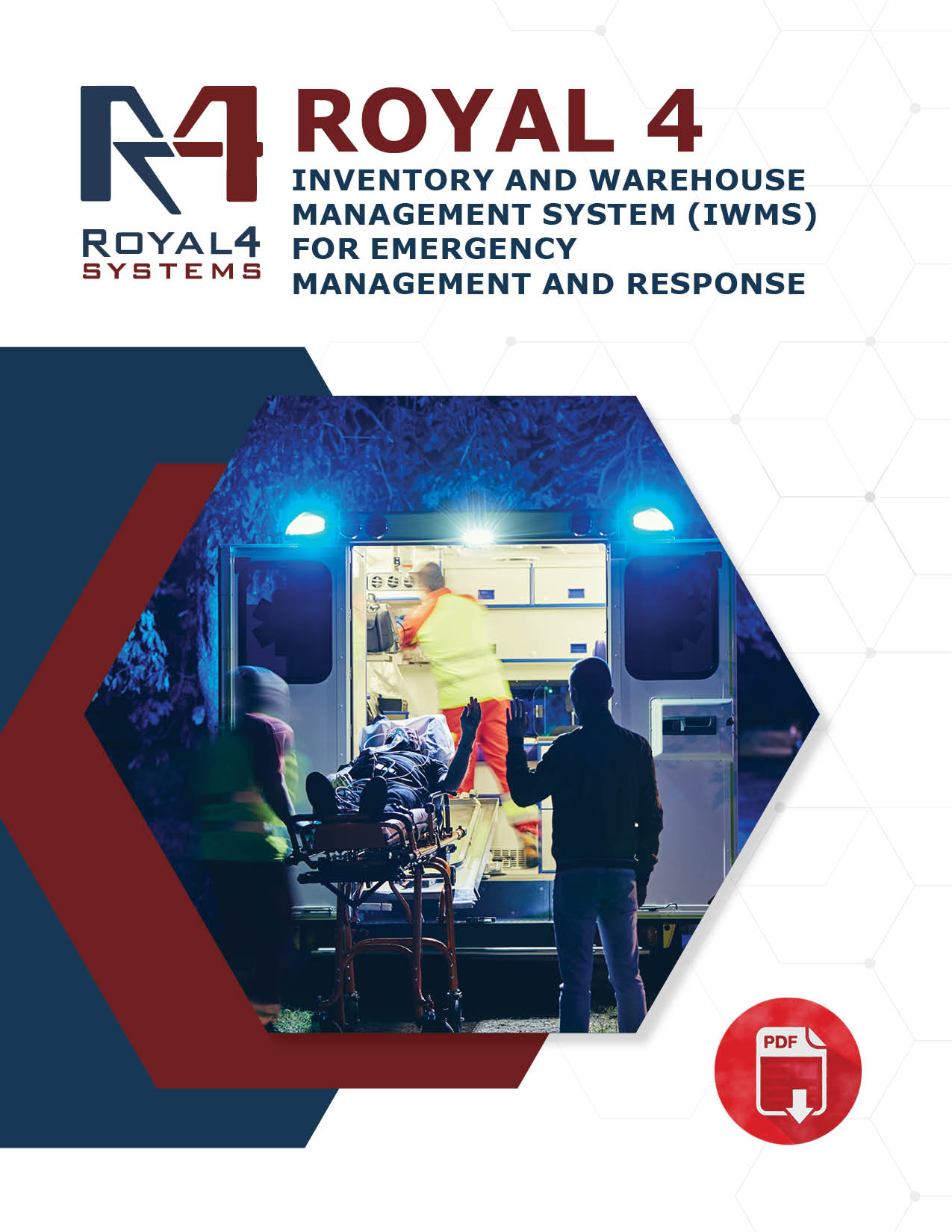 IWMS
Royal 4 Systems has developed a mission-critical solution (WISE) to manage resources and supplies in the event of an emergency.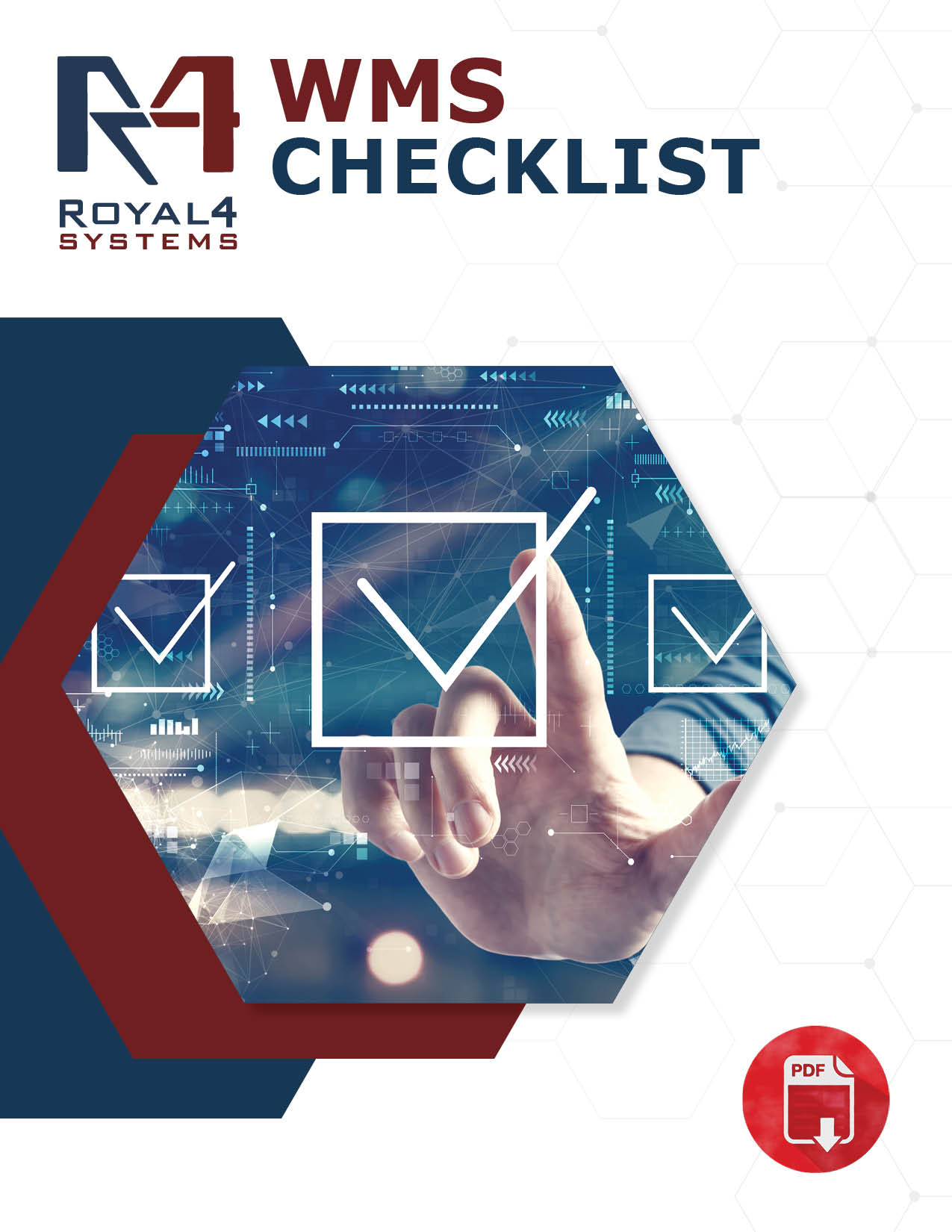 WMS Checklist
Are you planning to implement a warehouse management system (WMS) in the near future? If so, it's smart to start preparing now.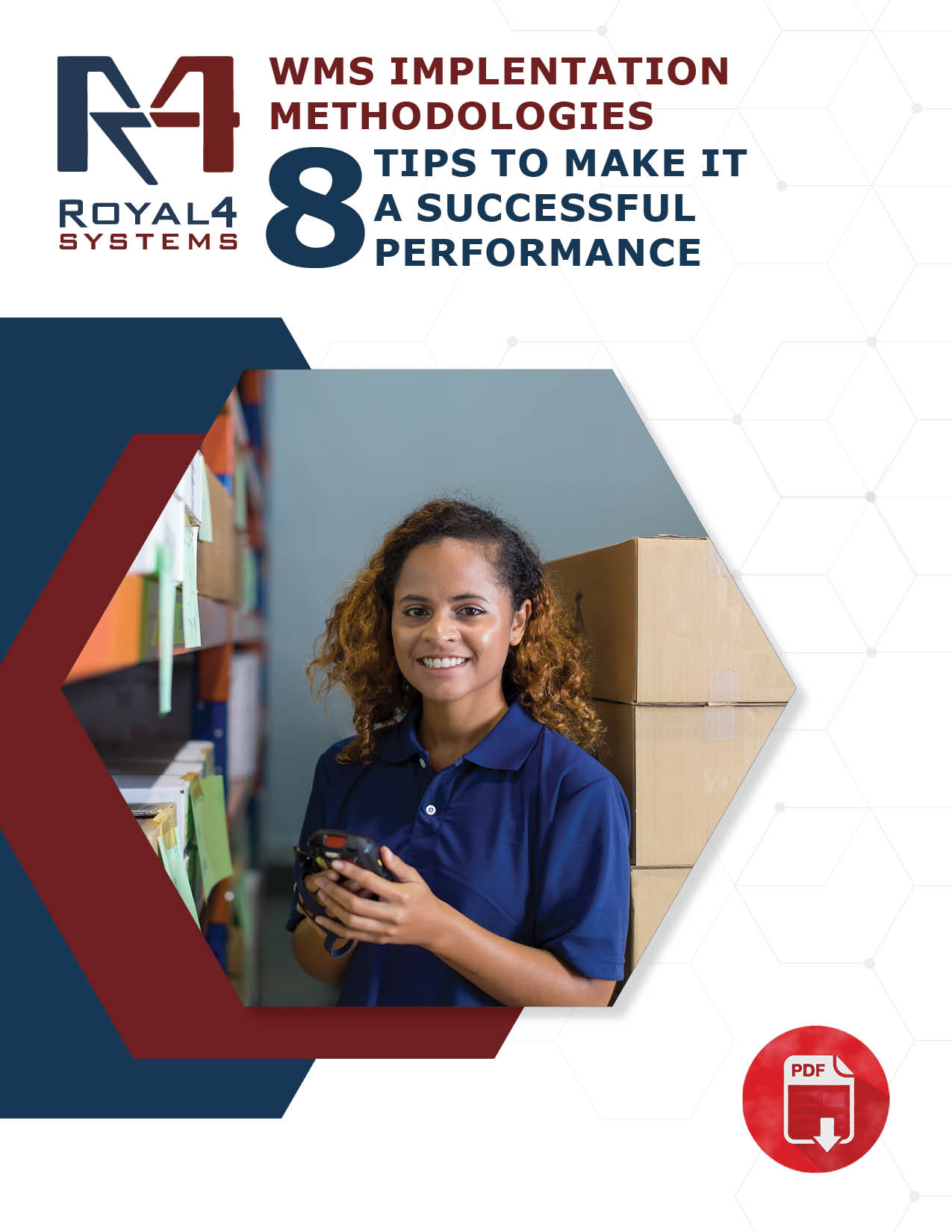 WMS Implementation Methodologies
Create a WMS implementation checklist to ensure you're prepared for things to launch.