WISE – Key Performance Metrics.
DII (Days In Inventory)
Inventory turns
Cycle time
WIP (Work in Process) level
Inventory standard cost trend
Square foot of inventory and WIP location
TCO (Total Cost of Ownership) of Enterprise Inventory and Material Handling systems (% of IT spend)
Cost of Goods Sold (COGS)
WISE – MATERIAL HANDLING
WISE also provides visibility to orders, inventory, resources and quality statuses-on the same platform-while providing alerts and alarms for issues resolution. This allows customers to proactively address problems in receiving, the warehouse, and better manage inventory re-allocations, shortages, and quality holds while reducing the impact on mainstream operations.
"The entire process was streamlined to meet the high transactional volumes, improve order fill rates and better serve customers. In addition, we have realized a 99% inventory accuracy rate and can better meet customer expectations with significant, accuracy and service improvements."

Better Coordination
With Royal 4 System's Architecture and process capabilities, WISE provide customers not only synchronization of materials within a supply base; but also, into their subcontract manufacturers and vendors. WISE has the ability to provide suppliers and subcontract manufacturer's visibility to their inventory at the facility by providing inventory status, quality information, and quantities. WISE enables better coordination between suppliers/subcontract manufacturers and their customers.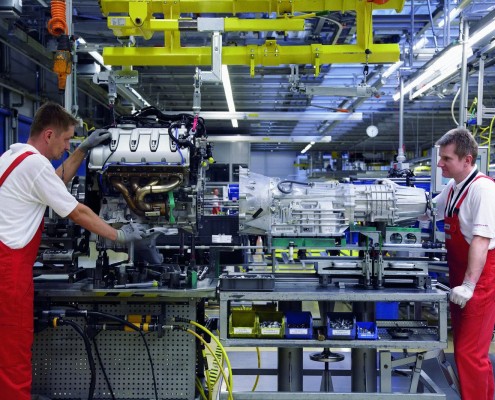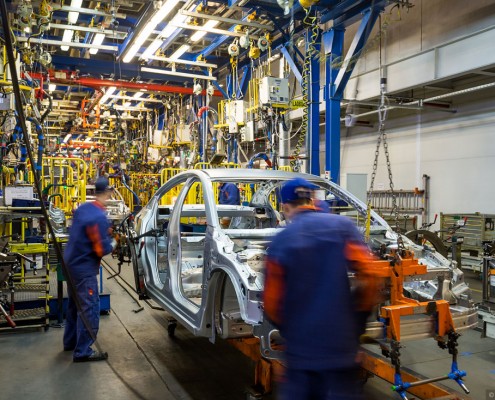 Synchronizaztion
Synchronization of product volume/mix with actual manufacturing capacity drives increased asset performance and utilization, lowers inventory levels and costs. WISE provides automotive manufactures the ability to allocate and distribute tasks to material handlers or to line/cell side locations based on production schedules or situations. For example, if a new order is allocated to a new machine, the supporting material handling activities will be updated. A task will be generated to tell the material handler where the raw material (that has not been allocated) is to be delivered to or the system will create a new task to transfer the already allocated material to the new machine (re-allocating the inventory to the new order).
Production Control
Where sub-assemblies are part of the production process, WISE coordinates the movement of materials for the sub-assembly with the production order for the final assembly to eliminate overproduction.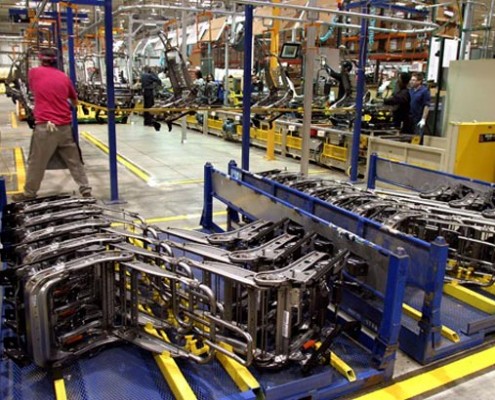 SYNCHRONIZATION OF MATERIAL HANDLING
Supports pull based and one piece flow management for inventory (up to Just in Time in Sequence model for Automotive) to eliminate inventory buffers. Supports multiple material replenishment models based on the manufacturing type for more accurate inventory replenishment. Supports multiple inventory management techniques to different types of inventory to eliminate obsolescence.

REDUCES MATERIAL COSTS
The R4 System lets you manage key performance indicators that tie to financial performance results and set operating goals to improve each KPI, such as reducing inventory to improve cost of goods sold.

SUPPLY CHAIN AGILITY
Supports the implementation of Lean by reducing inventory waste, reducing cycle time, and increase the agility of the supply chain.

ACCURACY IN SHIPPING AND RECEIVING
Increases accuracy, and reduces shipping and receiving errors by introducing real-time error proofing for printing, packaging, and labeling inventory in shipping and receiving (PPM in automotive).

LMF-LEAN MATERIAL FLOW
Offers a pre-packaged solution for high volume, SAP automotive tier 1 customers with embedded best-in-class practices delivered out of the box.

FIFO - FIRST IN, FIRST OUT
Supports First In First Out (FIFO), revision controlled inventory, inventory with shelf-life characteristics and/or other time sensitive quality characteristics (for example, First to Expire, First Out)

REAL-TIME VISIBILITY
Increases responsiveness to inventory related issues through real-time visibility and proactive exception handling.