Increased worker productivity and safety
Decreased mis-picks
Reduced short orders on trucks
Real-time visibility to order status
Elimination of paper pick lists
Reduced employee training time
VOICE PICKING SOLUTIONS FROM ROYAL 4
Adaptable, Open and Affordable
"In the 12 years that WISE has been supporting the logistics operations at Poiesz, WISE has proven itself as a stable Warehouse Management System for our supermarket distribution centers. A WMS in which you can quickly configure thanks to the flexibility of the application."

"I wanted to share some good news with the Royal 4 team. We have gone from the high 80% range to consistently being above 99.5% on our daily inventory accuracy, and we have done this while increasing our on-hand inventory by 50%! It has not been an easy journey but we are here."

"There are two things I look at when reviewing software systems – functionality and after-the-sale support. The WISE warehouse management system has provided superior functionality to our Distribution group since 2002. Royal 4 is the "gold standard" I use for evaluating vendor support."

WISE – Voice Picking Improves Productivity
The contribution of the workforce in warehousing is crucial. Labor is the single biggest cost factor, yet it is the least leveraged by technology. Warehouse workers have a huge impact on the ultimate bottom line. They either operate at top efficiency or waste time, making wrong decisions and other costly mistakes.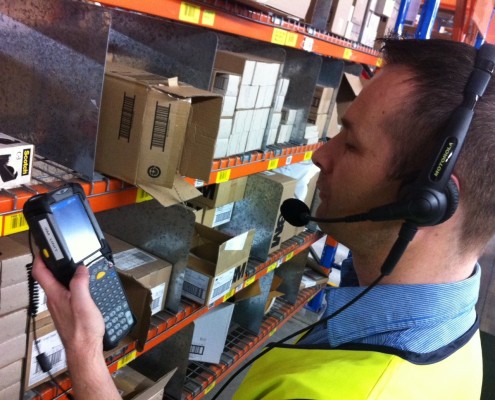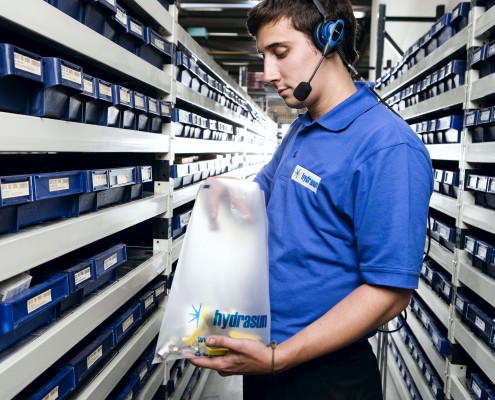 Gain Flexibility & Control WISE – Voice Picking
Voice picking should adapt to your warehouse, not the other way around. WISE voice solutions have one simple mission: to empower voice self-sufficiency in the warehouse. That's why we have teamed up with the top voice technology providers to develop voice-directed picking software that is easier to integrate, easier to use, and easier to change.
With WISE – Voice Picking Results are Indisputable
Voice increases productivity accuracy, and scalability, making a bottom line difference no matter what business you're in. Having delivered high-impact voice solutions to best-in-class companies in North America and Europe, industries are increasingly turning to voice technologies to add efficiencies to the WMS process.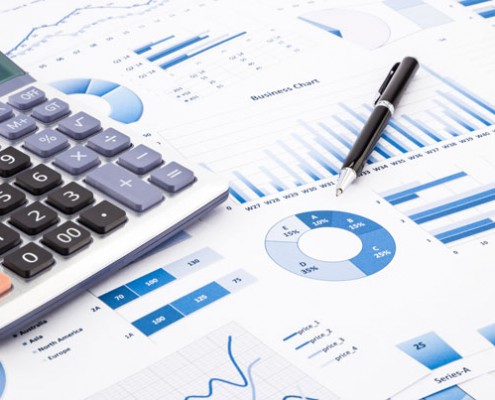 OUR INDUSTRIES VARY. THE RESULTS DON'T.
WISE WMS seamlessly integrates with the leading voice technology solutions; because we recognize that the most critical element for success with voice is the software. Royal 4 has been developing and integrating WMS solutions since 1984 and knows how to get it done right. Our customers get a configurable, flexible, and high-quality voice picking solution that enables them to effectively communicate essential information in any environment and in the face of ongoing operational changes. Some of the industries that benefit from voice include:

APPAREL
When it comes to voice picking, apparel industry warehouses have special operational needs. Garments on hangers, and style/color/size management are critically important.

FOOD SERVICE
A world of intense margin pressures, aggressive customer service commitments, and constant acquisitions are the challenges facing today's food supply chain. Warehouse managers must overcome the high employee churn, language barriers, and varying skill and motivation levels.

HEALTHCARE
In the warehouse, complex picking of high value and perishable products heighten the requirement for close supervision of workers' tasks and the need for accuracy of a relatively small warehouse workforce, often working among densely packed inventory.

AUTOMOTIVE
Automotive industry leaders look to WISE for the voice software they need to optimize their warehouse order fulfillment operations. Our voice solutions deliver the results they need today, without compromising flexibility for tomorrow.
FROZEN FOODS
Voice solutions are deployed in some pretty demanding places – such as freezers. Always cold, sometimes loud, freezers have long been a challenging environment for RF scanning and paper-based approaches.

PUBLISHING
High performance distribution is key to the retail and wholesale book business. Often handling thousands of SKUs and dealing with extreme peak periods, publishers and retailers can't afford to get bogged down by errors and bottlenecks.

CONSUMER GOODS
Today's retailers and consumers are more demanding than ever. Retailers depend upon having the right product on the right shelf at the right time – and that means optimizing the flow of goods.
GROCERY INDUSTRY
WISE Voice Management can take your warehouse to a whole new level of efficiency and productivity. In the grocery industry, WISE is improving operational efficiency at warehouses every day, including refrigerated and frozen food sites.

RESTAURANT INDUSTRY
Whether serving up fine food, fast food, or a coffee bar, if it's not in the kitchen or on the shelf the customer can't buy it. In restaurants and convenience stores, just-in-time supply of inventory, often perishable or high value, is critical.