WISE LEADER – ROBERT SPEEDIE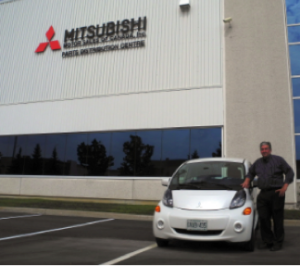 Robert Speedie, Manager, Parts Distribution Centre, and Logistics has been with Mitsubishi Motor Sales of Canada, Inc. since 2008. Robert was part of a team researching the available supply chain systems on the market and determining the best solution to enhance the automation and systems used to run the distribution center's operations and the dealer's ordering systems, including freight management of orders.
The system integration and start-up were of a critical nature, Robert was instrumental in ensuring a smooth transition to WISE and other management tools within the Royal 4 System. For this achievement, Royal 4 is pleased to induct Robert Speedie into the WISE Leaders' program.
Quote from Robert Speedie:
"The Parts Distribution Centre of Mitsubishi Motor Sales of Canada, Inc. chose Royal 4's supply chain solution after carefully evaluating other systems in the market. As a tier one auto distributor and parts supplier, our decision was based on many factors;

Royal 4's ability to handle our unique business processes including but not limited to: the way of operating our Distribution Centre, interfacing with all of the Mitsubishi Corporate and Divisional systems, multiple dealer business systems (French and English), Port Authority system, and managing inventory at off site locations were all very critical for Mitsubishi.

Royal 4 Systems project managers and go live support team were at our facility before during and after we went live. On the very first day dealer orders were transmitted to and received by the system allowing fulfillment of customer's orders. Inbound receiving and putting away of containers, picking / packing and shipping orders, and processing dealer returns were also achieved without issue.

We fulfilled every order, and did not lose any data,

all checks and balances worked as they should.

I would highly recommend the

WISE WMS solution

for any company in the

automotive parts distribution

industry".
-Robert Speedie,

 

Manager, Parts Distribution Centre and Logistics, Mitsubishi Motor Sales Canada, Inc.
PARTS DISTRIBUTION CENTRE OF MITSUBISHI MOTOR SALES CHOOSES WISE
Notable Achievments
Founded:
1970 Mitsubishi Motors Corporation;
2002 Mitsubishi Motor Sales of Canada, Inc.
Headquarters:
Mississauga, Ontario, Canada
Revenue:
$57.6 Million Annually Parts and Accessories
Volume:
500,000 lines & 40,000 order/yr
Employees and exclusive contractors:
19 DC employees
Parts Distribution Centre of Mitsubishi Motor Sales of Canada, Inc.
supports all dealers across Canada.
The PDC (Parts Distribution Centre) provides 90 Canadian Dealers with replacement parts and accessories, for aftersales support of Mitsubishi branded vehicles. Accessories are also provided for selective port installed options (PIO) to meet dealer requirements and deliveries. Genuine Mitsubishi spare and replacement parts are key to keeping Mitsubishi vehicle operating as designed.
Since 2002 customers have come to rely on the prompt supply of spare parts for their service and repair need across Canada. Accurate Distribution Centre management and order fulfillment along with the timely receipt of goods, is paramount to the success of the organization.
Mitsubishi Motor Sales of Canada, Inc. continues to investment in staff, technology, equipment and facilities, which has paid off by keeping their Distribution Center (DC) at the forefront of materials, equipment, staff and process management, while providing service to their dealers. After carefully evaluating many different WMS systems, The PDC (Parts Distribution Centre) chose to implement the WISE WMS by Royal 4 Systems